Chef Play! is a digital culinary instruction game.
Created as a class project by Mytia McAlary and James McKinney. Together we worked to create wireframes as well as a promotional video for the app that displays the various functions, gameplay, and point systems. ​​​​​​​​​​​​​​
TOOLS:
Illustrator, After Effects, Procreate
TEAM:
Mytia McAlary, James McKinney
Role:
UX Researcher, UI Design (divided between the team)
Technology has led to a large number of people giving up on cookbooks in favor of online alternatives. How can someone create an online cookbook that attracts audiences given the decline in cookbook sales?
Chef Play: Combine online learning with enjoyable activities to give a fresh and creative approach to learning to cook.
More than 70% of adults result to online solutions to find new cooking recipes instead of using traditional cookbooks. 
During this process and research, I gathered different information from multiple sources in order to give us a better understanding and perspective on creating the best solution.
_______________________________________________________________________________________________________________

my team and I conducted an online questionnaire to collect quantitative data on various users' preferences for learning new culinary recipes.
"When looking for new culinary recipes, where do you usually find them?"
97%
of users answered online
3%
of users answered cookbook​​​​​​​
Which meant that 
nearly all
of the participants were finding new recipes
online
verses using physical recipe books.

_______________________________________________________________________________________________________________
The food report and rewards pages include:
       • reflection on overall performance
       • overview of total points acquired
       • access to full real-life recipe
       • ability to share and like specific recipes to save later
The leaderboard page includes:
• top 3 friend players ranks and points
       • view your own score and points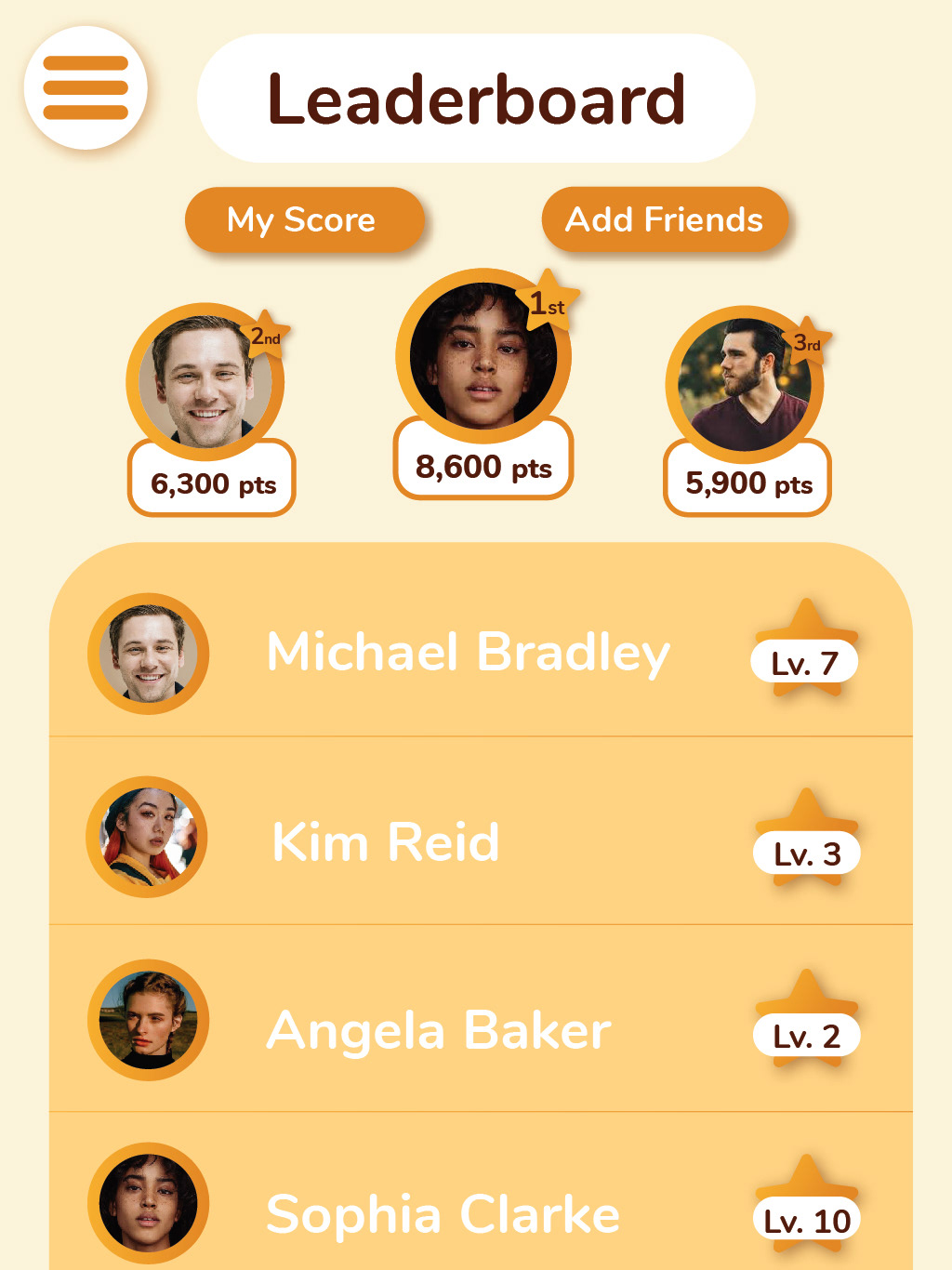 The gameplay sections include:
       • pause/play and exit buttons                                        • countdown timer
       • steps to follow in order to prepare food                   • points that add up throughout gameplay
       • tools to use during gameplay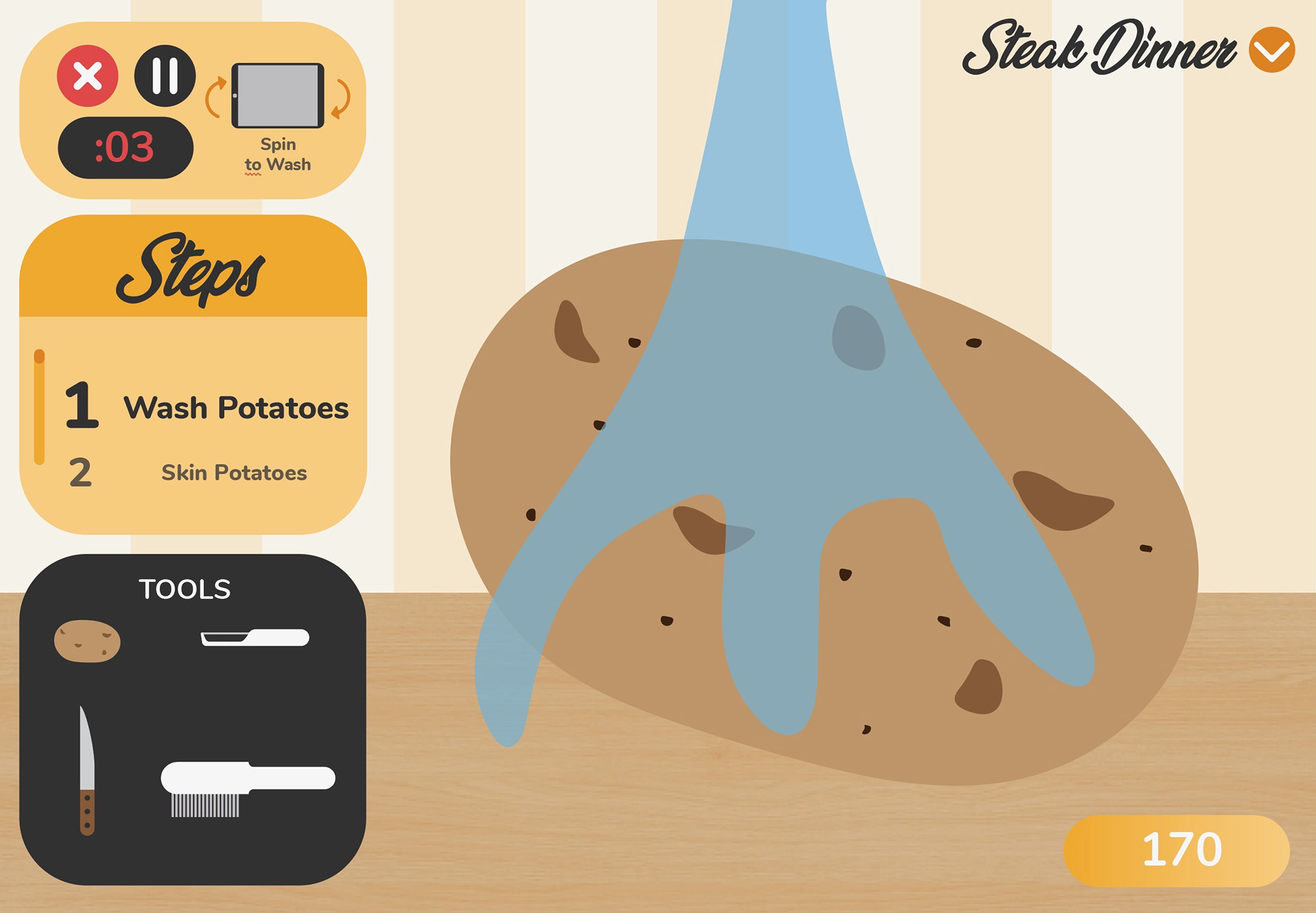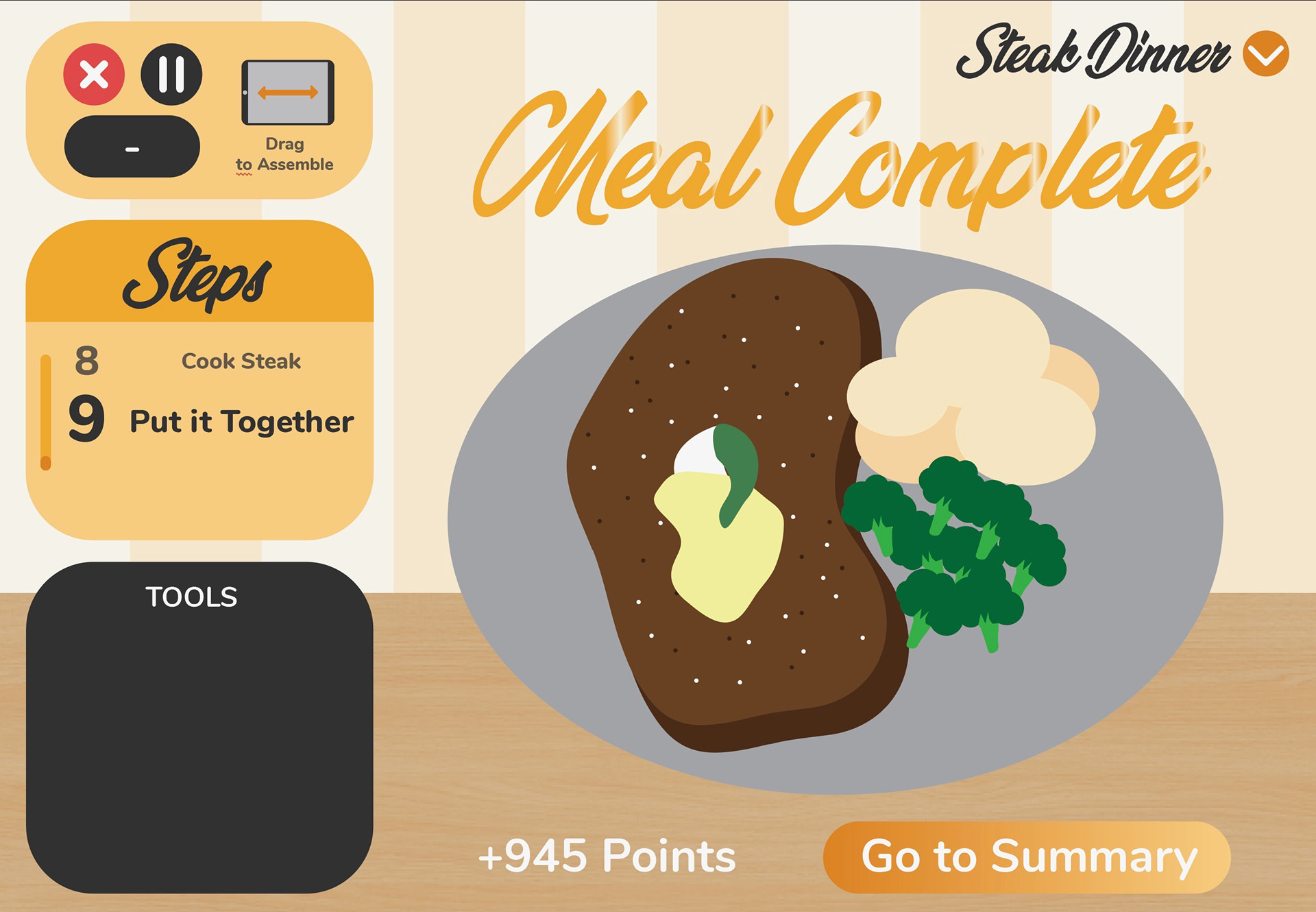 Through working on this project, I was able to grow in the following ways:
     ‣ Understand the process of researching, sketches, storyboarding
     ‣ Improved my visual skills through mood boarding and branding
     ‣ Implemented a design system when creating wireframes and user personas
If my team had additional time on this project, we would have examined the effectiveness of our final product, evaluated how different generations engaged with our design, and ways we might enhance the overall flow.
We also would've put more emphasis on the community aspect and how users could potentially connect with their friends and families while learning how to cook new recipes.