Carpal Tech is an up-and-coming company specializing in the production of silicone sleeve-style bands. These wide silicone bands are designed to protect the skin over the first and second metacarpal in either hand. By shielding the skin with a thin layer of silicone material in the shape of a tube-type ring "sleeve", the wearer can perform tasks while eliminating the risk of blisters, cuts, friction, and dermal irritation.
​​​​​​​
Team:
 Mytia McAlary, Molly McDyer, 
Anthony Giampietro,  Sydney George,
 and Stephen Moore
Laborers:
manual labor and workers who consistently use their hands, especially for fine motor skills, often suffer from dermal injuries on the job (Clements, 2019).
Athletes:
sports that often require hand protection like a glove or grip tape (e.g. golf, baseball, hockey) often lead to hand and finger-based injuries due to friction, irritation, and chafing (Trahan, 2013).
Musicians:
performers that utilize sticks, mallets, or other hand-held implements to make music often experience pain, discomfort, and blistering, especially between fingers and when holding multiple implements (Ruth, 2014).
Scribe/Art:
paralegals, teachers, and journalists, as well as artists with a hands-on focus (e.g. sculpting, drawing) who spend most of their day writing, have an increased risk of broken or irritated skin on their nail beds, knuckles, and in between their fingers (Matkso, 2020).
In an effort to facilitate comfort, safety, and convenience for laborers, athletes, musicians, and scribes/artists, Carpal Tech has introduced a band that is reusable, recyclable, and a practical must-have for the modern consumer.
"Comfort. Convenience. Practicality."
• Silicone sleeve-style band, similar to silicone wedding bands
• Buyers can choose size, color, and quantity. 
• Sleek, thin design, slides onto the user's finger, includes a raised grip on either end
• Malleable for the perfect fit, rolls on and off, simple to wash, convenient to store
Carpal Tech Bands are for everyone and anyone. Our target market spans a multidisciplinary platform for anyone who suffers from dermal irritation. It has the potential to most benefit laborers on the job, athletes on the field, musicians on the stage, and writers and artists who consistently rely on fine motor skills. 
​​​​​​​​​​​​​​
They are

Customer Segments

, who your customers are,

Value Proposition

, what is the gain that you would provide,

Channels

, how your product is delivered to the market,

Customer Relationships

, how you gain, keep, and grow customers,

Revenue Streams

, how your business earns money,

Key Resources

, what resources you have/need,

Key Activities

, what activities does your business have in order to deliver your proposition,

Key Partnerships

, what activities can you outsource to focus more on your key activities, and finally

Cost Structure

, the major costs incurred by your business.
An important point to remember was that 

"Customers don't exist for you, you exist to serve your customers."

Each element of the Business Model Canvas was specifically aimed toward consumers. They focused on the values we could deliver to the customer, how we could potentially reach the customer, how we would get, keep and grow our customers, and how to capture the most values of our customers. By filling in the canvas, it helped us development of an understanding of potential customers. 
"What are the most strategic things you must do to make the business model work?"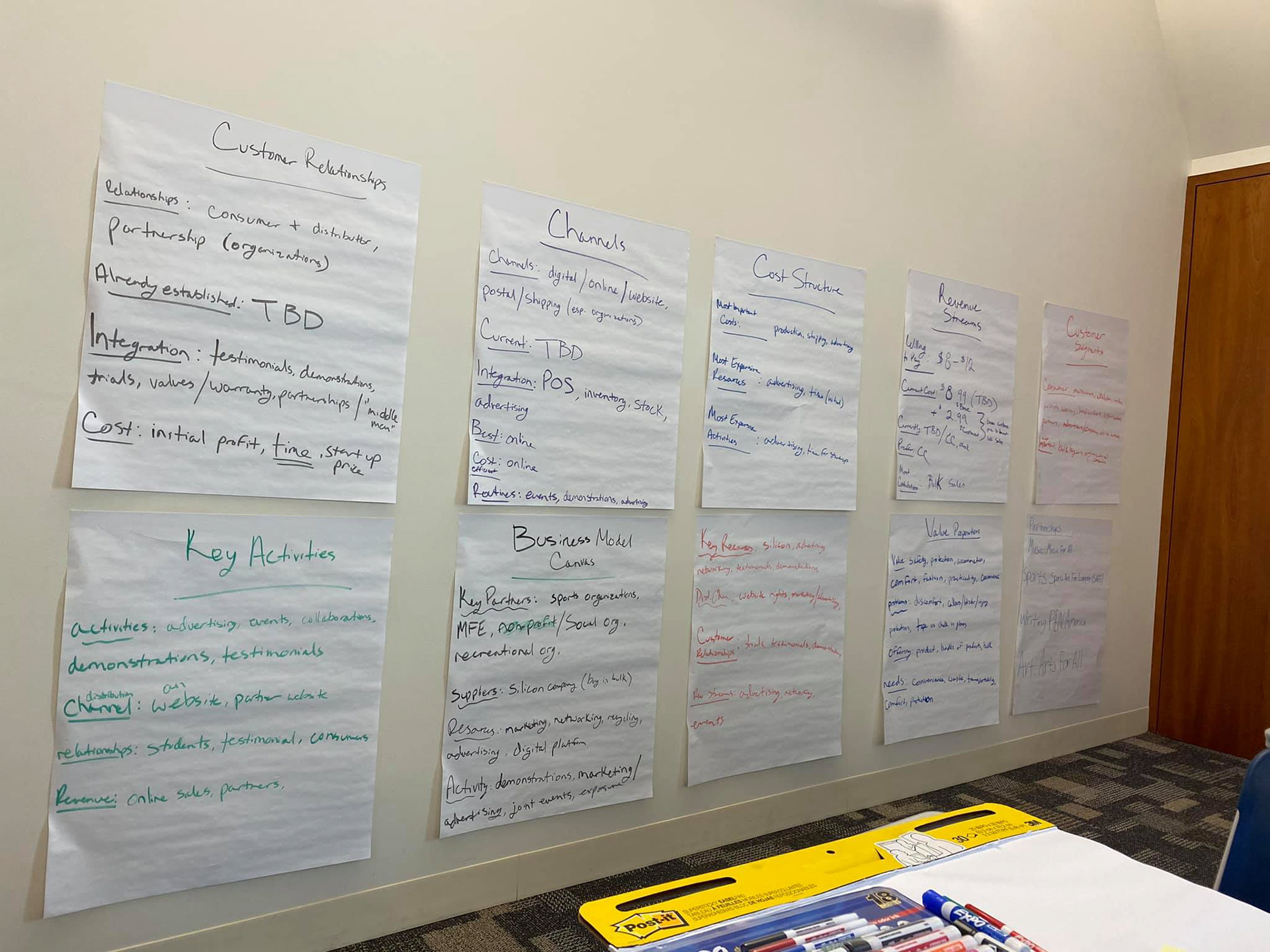 In order to evaluate and understand if our product would be considered useful to the public, we conducted a user survey for people to fill out so that we could get their opinions.
Of the 27 participants, we found..
88.9% use their hands at work 
37% get friction, irritation, or blisters
​​​​​​​

66.7% would consider buying and wearing Carpal Tech Band
22.2% would definitely buy and wear Carpal Tech Band
40.7% would buy the product due to its customization of it
14.8% would buy the product due to bulk ordering
33.3% would buy the product due to both customization and bulk ordering
Out of a series of randomly chosen interviews conducted within an urban environment, one interviewee relayed that the Carpal Tech Band would revolutionize his day-to-day workplace tasks by minimizing injury and maximizing comfort and safety as a laborer.
Another interviewee stated that the Carpal Tech Band would assist him in reducing pain caused by holding pens and pencils while writing often in school, and decrease discomfort while playing sports like hockey, baseball, or golf.
Two interviewees mentioned that they would be willing to pay anywhere from $10-$20 on a single band due to its reusability, durability, and practicality. 
​​​​​​​